advocacy
We hope that you will join us throughout the year as we explore how racial injustice is manifest throughout the criminal justice system, and what we, as concerned Reform Jews, can do to bring justice to the system.
The number of incarcerated people in America quadrupled from 1980 – 2008, going from roughly 500,000 to 2.3 million people. The Florida Department of Corrections has the third largest prison system in the country, with over-representation of people of color. One in three black men can expect to go to prison in their lifetime versus one in 17 white men. Black women are twice as likely as white women to be incarcerated.
Florida is also one of only 4 states with the harshest laws which bar people with past felony convictions from ever casting a ballot again, even after all terms of the sentence have been completed. One in four adult African Americans in Florida cannot vote – that is 1.68 million Floridians who cannot vote because of prior felony convictions. Our congeregation collected signatures for the Florida Voting Rights Restoration for Felons Initiative for the 2018 ballot, which would restore the right to vote for people with prior felony convictions who have completd their sentences, except those convicted of murder or a felony sexual offense . Other initiatives will be shared throughout the year.
Upcoming Events
Temple Beth Sholom Leadership meetings: Join with others who want to make a difference and are interested in participating in community grassroots change. Contact Rabbi Davis for more information.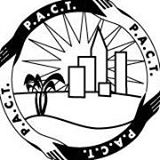 PACT
Temple Beth Sholom is a proud member of Miami PACT – People Acting for Community Together. PACT is an interfaith social advocacy group that works to make lasting change in the community and to hold leaders accountable. Their current initiatives are reducing gun violence, immigration reform, and affordable housing. To get involved with PACT, please contact Rabbi Davis.
Let Justice Roll
PACT (People Acting for Community Together) Leadership Team
7:00 – 8:00 pm | February 25, 2019

Faith Leaders from neighboring PACT congregations will consider the underlying traditions that inspire our work, the issues that face us and what we are doing together to make our community a better place for all. The Panel discussion will be followed by an opportunity for questions and sharing. For more information, contact: Benjamin Paley, Social Justice Fellow atben@tbsmb.org.

Confirmed Clergy include:
Reverend Wilifred Allen-Faiella, St. Stephen's Episcopal Church
Rabbi Ethan Bair, Temple Beth Sholom
Imam Mikal Hamim, Masjid Al-Ansar
Reverend Father Juan Sosa, St. Joseph Catholic Church
Religious Action Center
Learn more about the Reform movement's commitment to tikkun olam by healing the world through advocacy at the Religious Action Center. For up-to-date information on social justice issues visit the Religious Action Center Urgency Now page.
Sun, February 17 2019 12 Adar I 5779