advocacy & Action
Protecting the Right of Public Protest: The RAC-FL's 2021 Legislative Campaign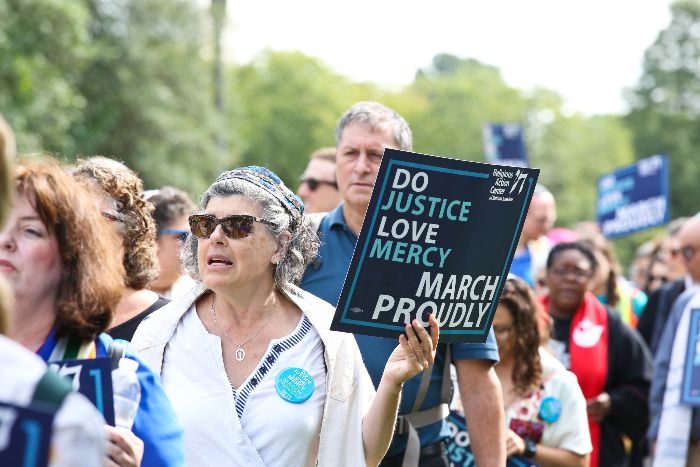 This legislative session, members of the Florida legislature are working to pass legislation that will chill free speech and assembly by threatening to criminalize peaceful public protest. If passed, the bill will unnecessarily intimidate and punish peaceful protesters, especially Black Floridians fighting for racial justice.
One of the ways we teach future generations about freedom and standing up to injustice is by bringing our children to peaceful protests. We march and sing alongside partners of all races and faiths in opposition to the Egypts and Pharaohs of today. When Moses spoke out to Pharaoh, and the Israelites rose up to claim their freedom, they did so in peaceful protest.
WHAT IS HB1/SB484, THE ANTI-PROTEST BILL?
The anti-protest bill was intended to and will, if enacted, chill free speech and peaceful assembly. It was introduced in response to protests for racial justice and will threaten the ability of Floridians to take part in speaking out on the issues that matter to us. Protest is central to our moral fabric. Historically, our communities have made our voices heard through protest movements to support unions, during the civil rights movement, and the movement to free Soviet Jewry. More recently, Reform Jews across Florida have stood up for gun violence prevention, immigration justice, and voting rights
RAC-FL's recently launched Anti-Protest Bill Campaign is focused on three core strategies:
Educating our congregations and communities about this issue
Influencing public opinion
Influencing legislators
WHAT YOU CAN DO TO OPPOSE HB1/SB484
The Florida Legislative Session is only 60 days, and this bill is moving quickly through the legislature. Here are the next steps you can take to join this campaign at RAC.org/FLcommit and move into action over the days and weeks ahead:
Religious Action Center of Reform Judaism
For nearly six decades, the Religious Action Center of Reform Judaism (the RAC) has worked to educate, inspire, and mobilize the Reform Jewish Movement to advocate for social justice. We work on over 70 issues including gun violence prevention, immigration, reproductive rights, and criminal justice reform; and mobilize around federal, state, provincial, and local legislation. As a joint instrumentality of the Union for Reform Judaism and the Central Conference of American Rabbis, we represent the values of the largest and most diverse Jewish Movement in North America to governments at all levels.
In July 2020, the RAC officially launched the Florida Religious Action Center (RAC-FL), coinciding with the launch of a statewide civic engagement effort through Every Voice, Every Vote: The Reform Movement's 2020 Civic Engagement Campaign. This launch was the culmination of two years of organizing efforts in Florida.
Leading up to the 2018 mid-term elections, our Reform Jewish communities worked in coalition to advocate for the passage of the Amendment 4 ballot initiative, aimed at restoring the right to vote for 1.4 million Floridians (the fourth largest voter enfranchisement movement in U.S. history), which passed on Election Day. Just one year later, our communities partnered with immigration justice organizations to advocate for the closure of the Homestead detention center, the only private, for-profit detention center housing immigrant children. Both campaigns provided opportunities for our communities to carry out the values to tikkun olam and pursue a more moral and just Florida for all.
Visit their website, https://rac.org/, to learn more about their work and how you can get involved.
Gun Violence Prevention Task Force
Gun violence prevention has been a social action priority for the URJ for decades. Gun violence remains a public health and safety issue with 100 deaths daily, almost two-thirds of which are suicides. Rabbi Pomerantz constituted the task force in 2017 with a threefold agenda: Education—to provide the congregation with evidence-based information regarding the issue; Advocacy—to provide information regarding pending gun legislation; Community Engagement—to partner with local partners to end gun violence. We welcome new members to our task force.
Upcoming Events
Temple Beth Sholom Leadership meetings: Join with others who want to make a difference and are interested in participating in community grassroots change. Contact Rabbi Bair for more information.
Fri, May 7 2021 25 Iyyar 5781