advocacy
The Social Justice Network is committed to civic engagement through the Religious Action Center's "Kol Kolot: Every Voice, Every Vote" Campaign.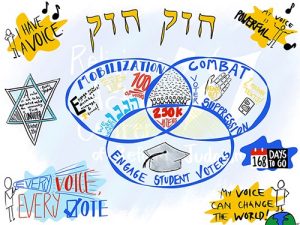 As Reform Jews, we believe democracy is strongest when everyone participates – and it suffers when citizens are shut out from the democratic process or choose not to engage. Every Voice, Every Vote is the Reform Jewish Movement's 2020 civic engagement campaign, a nonpartisan effort to strengthen our democracy by encouraging everyone to participate in the U.S. election and ensuring that Reform Jewish values are represented in the public square.
This campaign has three areas of focus:
1. Mobilizing our voters to become a 100% voting congregation
2. Combating voter suppression on the county and state level
3. Engaging student voters through voter registration
Visit our Go Vote Miami webpage to learn more about how you can prepare for the upcoming election and get involved in our civic engagement efforts. Email Rabbi Bair to receive action updates by email.
Gun Violence Prevention Task Force
Gun violence prevention has been a social action priority for the URJ for decades. Gun violence remains a public health and safety issue with 100 deaths daily, almost two-thirds of which are suicides. Rabbi Pomerantz constituted the task force in 2017 with a threefold agenda: Education—to provide the congregation with evidence-based information regarding the issue; Advocacy—to provide information regarding pending gun legislation; Community Engagement—to partner with local partners to end gun violence. We welcome new members to our task force.
Upcoming Events
Temple Beth Sholom Leadership meetings: Join with others who want to make a difference and are interested in participating in community grassroots change. Contact Rabbi Bair for more information.
Justice for All
As a Reform Jewish community, we support "justice for all" and we acknowledge that we all share responsibility to speak out against injustice and not stand idly by. Temple Beth Sholom has joined a broad coalition of organizations, including the NAACP, ACLU, New Florida Majority, Equality Florida and others, who are committed to fighting against systemic racism and police brutality.
This group is asking county elected office seekers for their endorsement of an independent civilian police oversight committee.

A change.org petition asking the Mayor and 13 Miami-Dade Commissioners to implement, fully fund and support effective civilian oversight for the County has gone live at: https://www.change.org/MDPDoversight
As the petition explains, the model we are proposing for Miami-Dade County is:
13 panel members, chosen from each County district, after vetting by a nominating committee, plus one non-voting police representative.
Professional staff, trained in police procedures, with independent director & independent legal counsel.
Secure, adequate funding.
Subpoena power, in accordance with law.
Available for use/participation by all municipalities in the County.
Authorized to investigate complaints against police and review internal affairs decisions.
Authorized to conduct alternative dispute resolution to allow complainants and officers to resolve complaints outside the disciplinary process.
Authorized to study, review and report on police policies, procedures and patterns of behavior.
Let's support this initiative! PLEASE IMMEDIATELY SIGN THE PETITION at https://www.change.org/MDPDoversight
AND SHARE IT!
Tue, December 1 2020 15 Kislev 5781