advocacy & Action
The Social Justice Network is committed to civic engagement through the Religious Action Center's "Kol Kolot: Every Voice, Every Vote" Campaign.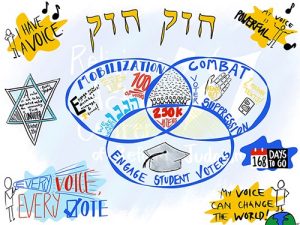 As Reform Jews, we believe democracy is strongest when everyone participates – and it suffers when citizens are shut out from the democratic process or choose not to engage. Every Voice, Every Vote is the Reform Jewish Movement's 2020 civic engagement campaign, a nonpartisan effort to strengthen our democracy by encouraging everyone to participate in the U.S. election and ensuring that Reform Jewish values are represented in the public square.
This campaign has three areas of focus:
1. Mobilizing our voters to become a 100% voting congregation
2. Combating voter suppression on the county and state level
3. Engaging student voters through voter registration
Visit our Go Vote Miami webpage to learn more about how you can prepare for the upcoming election and get involved in our civic engagement efforts. Email Rabbi Bair to receive action updates by email.
Religious Action Center of Reform Judaism
For nearly six decades, the Religious Action Center of Reform Judaism (the RAC) has worked to educate, inspire, and mobilize the Reform Jewish Movement to advocate for social justice. We work on over 70 issues including gun violence prevention, immigration, reproductive rights, and criminal justice reform; and mobilize around federal, state, provincial, and local legislation. As a joint instrumentality of the Union for Reform Judaism and the Central Conference of American Rabbis, we represent the values of the largest and most diverse Jewish Movement in North America to governments at all levels.
Visit their website, https://rac.org/, to learn more about their work and how you can get involved.
Gun Violence Prevention Task Force
Gun violence prevention has been a social action priority for the URJ for decades. Gun violence remains a public health and safety issue with 100 deaths daily, almost two-thirds of which are suicides. Rabbi Pomerantz constituted the task force in 2017 with a threefold agenda: Education—to provide the congregation with evidence-based information regarding the issue; Advocacy—to provide information regarding pending gun legislation; Community Engagement—to partner with local partners to end gun violence. We welcome new members to our task force.
Upcoming Events
Temple Beth Sholom Leadership meetings: Join with others who want to make a difference and are interested in participating in community grassroots change. Contact Rabbi Bair for more information.
Wed, March 3 2021 19 Adar 5781