advocacy & Action
The Religious Action Center Every Voice, Every Vote Campaign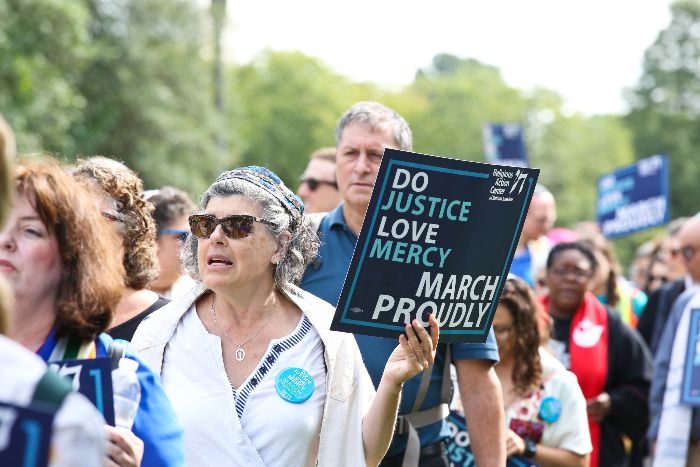 The Reform Jewish Movement's 2022 Every Voice, Every Vote Campaign is a nonpartisan effort, grounded in our Jewish values and commitment to racial justice, to strengthen our democracy by encouraging and protecting voter participation. As Reform Jews, we believe democracy is strongest when the electorate reflects the population – and it suffers when citizens are shut out from the democratic process. Voting is how we determine our future. It is how we fulfill the Talmudic teaching that a ruler is not to be appointed unless the community is first consulted. It is our prayer. It is our voice. 
Click here to check your voter registration status. Click here to take action on getting out to vote with the RAC!
CALL TO ACTION
Temple Beth Sholom is engaged with RAC-FL in the Every Voice, Every Vote Civic Engagement campaign for the 2022 election. We will be working with Florida Rising to call voters throughout Florida to encourage them to vote on November 8. No experience is necessary! Each evening will start with a brief overview of the script and phone calling tools. You do not have to be present for the entire evening; join us anytime and any evening. All you need is a smile and the willingness to speak with your neighbors! Please register for these upcoming virtual Zoom phone banks from 6 to 8pm:
Tuesday, September 20 at 6:00 pm ET • Click to register
Thursday, October 13 at 6:00 pm ET • Click to register
Tuesday, October 25 at 6:00 pm ET • Click to register
Thursday, November 3 at 6:00 pm ET • Click to register
To learn more and get involved, contact Myra Spindel, our RAC-FL Representative.
Religious Action Center of Reform Judaism
For nearly six decades, the Religious Action Center of Reform Judaism (the RAC) has worked to educate, inspire, and mobilize the Reform Jewish Movement to advocate for social justice. We work on over 70 issues including gun violence prevention, immigration, reproductive rights, and criminal justice reform; and mobilize around federal, state, provincial, and local legislation. As a joint instrumentality of the Union for Reform Judaism and the Central Conference of American Rabbis, we represent the values of the largest and most diverse Jewish Movement in North America to governments at all levels.
In July 2020, the RAC officially launched the Florida Religious Action Center (RAC-FL), coinciding with the launch of a statewide civic engagement effort through Every Voice, Every Vote: The Reform Movement's 2020 Civic Engagement Campaign. This launch was the culmination of two years of organizing efforts in Florida.
Leading up to the 2018 mid-term elections, our Reform Jewish communities worked in coalition to advocate for the passage of the Amendment 4 ballot initiative, aimed at restoring the right to vote for 1.4 million Floridians (the fourth largest voter enfranchisement movement in U.S. history), which passed on Election Day. Just one year later, our communities partnered with immigration justice organizations to advocate for the closure of the Homestead detention center, the only private, for-profit detention center housing immigrant children. Both campaigns provided opportunities for our communities to carry out the values to tikkun olam and pursue a more moral and just Florida for all.
Visit their website, https://rac.org/, to learn more about their work and how you can get involved.
Gun Violence Prevention Task Force
Gun violence prevention has been a social action priority for the URJ for decades. Gun violence remains a public health and safety issue with 100 deaths daily, almost two-thirds of which are suicides. Rabbi Pomerantz constituted the task force in 2017 with a threefold agenda: Education—to provide the congregation with evidence-based information regarding the issue; Advocacy—to provide information regarding pending gun legislation; Community Engagement—to partner with local partners to end gun violence. We welcome new members to our task force.
In partnership with Mom's Demand Action for Gun Safety, our Task Force will be working on educating and spreading awareness of the Be SMART program. The Be SMART framework is designed to help parents and adults normalize conversations about gun safety and take responsible actions that can prevent child gun deaths and injuries. The Be SMART campaign was launched to raise awareness that secure gun storage—storing guns locked, unloaded and separate from ammunition—can save children's lives. Through trainings and conversations with school PTOs, community centers, and physician offices, Be SMART emphasizes that it's an adult responsibility to keep kids from accessing guns, and that every adult can play a role in keeping kids and communities safer.
Upcoming meeting: Please join the Gun Violence Prevention Task Force for our first meeting of the new year on Tuesday, September 13 at 7:00 PM. We will discuss our work for the year and do training in the Be SMART. The Be SMART framework is designed to help parents and adults normalize conversations about gun safety and take responsible actions that can prevent child gun deaths and injuries. Please register for the meeting here.
Contact: Hilary Feldman and Lauren Cantor
Upcoming Events
Temple Beth Sholom Leadership meetings: Join with others who want to make a difference and are interested in participating in community grassroots change. Contact Jeff Agron, Social Justice Director for more information.
Mon, September 26 2022 1 Tishrei 5783