jTravel (Jewish Travel) is an extremely popular program for our Jewish youth and teens. We provide an assortment of travel opportunities for those in grades 9-12. Trips include social programming, leadership seminars, community service projects, grade-level field trips, and national/ international organized Jewish travel experiences. Open to all Temple Beth Sholom members and non-members. Financial assistance is always available.
Here's what's happening this year:
November 1-4, 2019 – New York City – 9th Grade
Get ready for a New York City adventure! We will be exploring Jewish culture and impact all over the city! Join us as we discover the rich heritage of the past in some of the oldest Jewish neighborhoods and synagogues and as well as the innovative institutions that foster the thriving Jewish communities today. Our trip will *of course* include delicious food, world-renowned entertainment, and all of the excitement NYC has to offer!
February 14-18, 2019 – Give Kids the World – 9th-12th Grade
jTravel participants will serve as volunteers at Orlando's Give Kids the World Village. This is a 79-acre, non-profit "storybook resort" where children with life-threatening illnesses and their families are treated to a weeklong cost-free fatasy vacation. jTravel participants will serve alongside medical professionals as volunteers helping to create a camp-like atmosphere during the day for the families. Separate nighttime activities for jTravel participants. Thirty hours of community service awarded with full participation.
While we are in Orlando for the long weekend, we will also travel to Disneyworld for a day as a jTravel group.
February 7-10, 2019 – Washington, D.C.- L'Taken Conferences – 10th Grade
Want to make a difference? Teens will look at a variety of public policy issues through a Jewish lens. Teens will learn the skills needed to be an effective advocate and will have the unique experience of putting those skills to use on Capitol Hill where they will speak to our senators and representatives. There will be some D.C. sightseeing as well as an evening in Georgetown. Forty hours of community service awarded with full participation.
May 1-3, 2019 – Mini BESTHY Retreat – 9th-12th Grade
Travel to a beautifully renovated Camp Owaissa Bauer, located in Homestead, FL, where teens will serve as counselors to our 3rd-5th grade campers. Teens will have the opportunity to organize and run a three-day camp-like experience full of tie dye, singalongs, campfires and much more. The new site offers us exciting new opportunities to explore! Forty hours of community service awarded with full participation.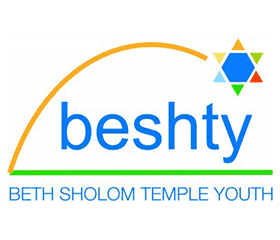 Beth Sholom Temple Youth (BESHTY) is our high school youth group for those in grades 9-12. Monthly activities include ice skating/Havdalah, cake-decorating Shabbat, Mitzvah Day, NFTY kallot, and much more.
TBS Middle School Students
September (TBD) Lincoln Road Scavenger Hunt and Ice Cream
November 8-10 Hatikvah Kallah Retreat
TBS High School Students
Weekly Opportunities
Confirmation I – Mon. 6:30-8:00 pm includes dinner
Confirmation II – Mon. 6:30-8:00 pm includes dinner
Madrichim
Open to all high school students
Share and explore new skills of leadership, and mentoring in a Jewish environment

Assist in our jLAB religious school program as an assistant teacher (Saturdays and/or Mondays and/or Wednesdays) and earn community service hours and/or scholarships towards TBS programs and trips.
Monthy Opportunities
BESTHY
Monthly youth group activities including social, religious, community-service oriented, experiential and fun programs!

Includes three weekend retreats throughout Florida with other Reform teens in NFTY-STR

No annual memberships required
Oct. 25-27, 2019 Fall Kallah
Dec. 26-30, 2019 NFTY Regional Convention
Feb. 28-March 1, 2019 Spring Kallah
For further information on these programs, events, registration, or financial assistance, please email Rabbi Loiben.
Thu, October 21 2021
15 Cheshvan 5782
Thursday, Oct. 21
4:00 pm Meet up with Mark Baranek Zoom
7:00 pm Foundations for Thoughtful Judaism: Peoplehood with Rabbi Glickstein RSVP to Noemi for link
Wed., Oct. 27
9:30 am - The Adult Hebrew School with Rabbi Robert Davis Email for info
12:00 pm - A Taste of Talmud with Rabbi Joanne Loiben (also the 27th) RSVP to Noemi
Thu, October 21 2021 15 Cheshvan 5782