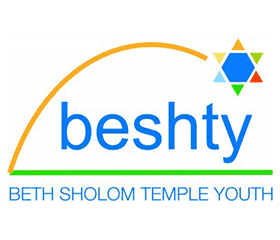 Beth Sholom Temple Youth (BESHTY) is our high school youth group for those in grades 9-12. Monthly activities include ice skating/Havdalah, cake-decorating Shabbat, Mitzvah Day, NFTY kallot, and much more.
TBS High School Students
Weekly Opportunities
Confirmation I – Mon. 6:30-8:00 pm includes dinner
Confirmation II – Mon. 6:30-8:00 pm includes dinner
Madrichim
Open to all high school students
Share and explore new skills of leadership, and mentoring in a Jewish environment

Assist in our jLAB religious school program as an assistant teacher (Saturdays and/or Mondays and/or Wednesdays) and earn community service hours and/or scholarships towards TBS programs and trips.
Monthly Opportunities
BESHTY
Monthly youth group activities including social, religious, community-service oriented, experiential and fun programs!

Includes three weekend retreats throughout Florida with other Reform teens in NFTY-STR

No annual memberships required
For further information on these programs, events, registration, or financial assistance, please email Rabbi Loiben.
Mon, May 23 2022
22 Iyar 5782
Mon, May 23 2022 22 Iyar 5782