"There is something for everyone here. It furthers my desire to create a legacy. It's a legacy to the community too, and I think that's priceless."
A close-knit family of five, Chris and Mike Weinberg and their three children, Max, Shay and Zoe are devoted members of Temple Beth Sholom, having joined the congregation 21 years ago. The theme of "giving back" resonated in every anecdote they shared with us about their lives and their decision to participate in the Legacy Endowment Campaign.
Like many others who have graciously donated to this endeavor; theirs, too, is a proud tradition of love for their faith, their family, their Temple friends, the clergy and the future of the Temple.
Chris sums it up by explaining that, "I believe very strongly that our Miami Beach Jewish community and our friends and family here in Miami have helped to raise me and shape me for the person I am today. I am eternally grateful." Mike adds, "We only hope we can give back as much as we received and more." Telling words indeed, for this big-hearted family who desires to pave the way for a secure and vibrant future for Temple Beth Sholom.
Both raised in Miami Beach, the melding of their diverse backgrounds included Mike's grandparents, who were from Eastern Europe and his first generation American parents, who weren't overly observant; and Chris' Jewish father and Roman Catholic mother, who both were non-practicing. Upon getting married, they realized that they wanted to change that and bring up their family with both "community and religion" in their lives, so they decided to join Temple Beth Sholom.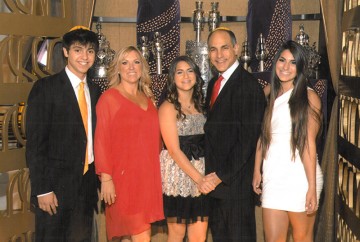 Zoe-Weinberg-Bat-MitzvahIn 1995, when their son Max was born, the TBS Director of Early Childhood at the time, Rowena Kovler, reached out to Chris to ask her if she was interested in teaching Mommy and Me at the Temple. This invitation evolved into Chris and Mike financially investing to establish and grow the parent-child classes at the Temple, with the revenue-generating program going from 25 babies to 200 babies. Over the years, their involvement in the Temple included ensuring their children received their Jewish education, celebrated their B'nei Mitzvah, participated in BESHTY, confirmation, and a trip to Israel. They enjoyed volunteerism on committees at leadership levels, including Mike being a member of the Board of Trustees and both Chris and Mike chairing the annual fundraiser. During high school, Max volunteered during the summer with Mark Baranek. That volunteer position led to a job after school at TBS for the remainder of high school. Max was also a recipient of the Rabbi Leon Kronish award. This is just a sampling of the Weinbergs immersing themselves in Temple Beth Sholom as their spiritual home.
The Weinbergs feel fortunate to be a part of the Temple Beth Sholom family, having shared many special occasions and poignant moments in their lives right here. They hope that there will be many more good occasions to come and that their gift will be part of the grand plan ensuring that those who come after them will be able to experience the same blessings they have experienced here.
Wed, March 3 2021 19 Adar 5781